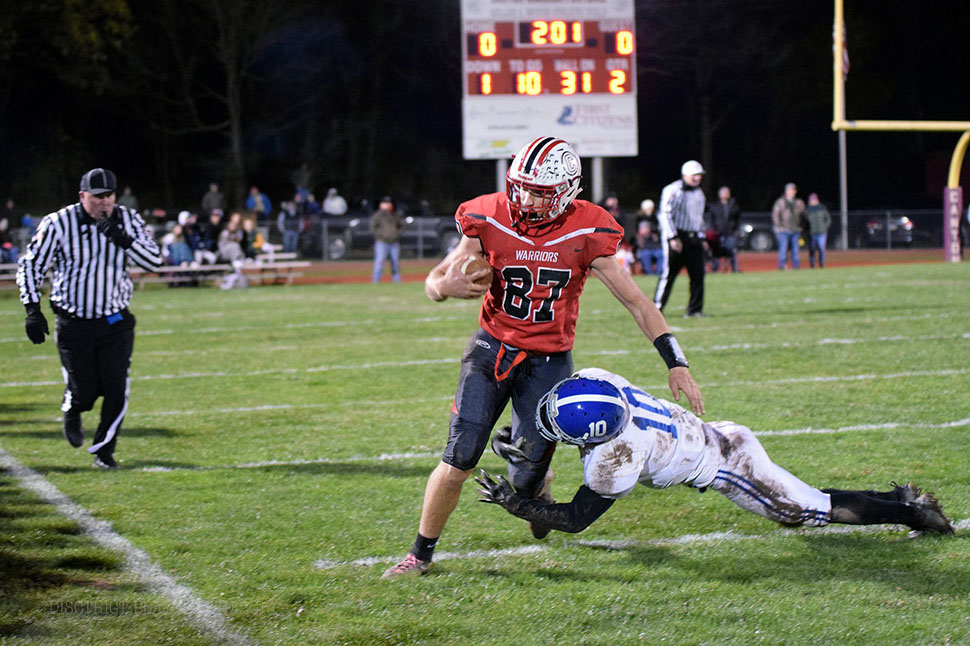 Canton downs South, returns to D4 title game
By: Joe Carreon | November 2, 2019
Most playoff games are tough. They can go scoreless for long periods of time during a contest. The game between Canton and South Williamsport was no different.
Neither team found paydirt until the fourth quarter and thats when it all broke loose.
Heavy rains on Thursday made the playing surface soggy for Friday nights game but the players adjusted.
Canton got on the board first with a jumpball throw to Benjamin Knapp.
That catch broke a deadlock that at times had people wondering in the press box if we were headed for a 0-0 tie in regulation. The first half was filled with nine punts.
The closest anyone got to punching one in the end zone at Miller A. Moyer Field was South Williamsport's opening drive of the game. The Mounties drove it to the ten yard line on the back of a
Luke Winner 43-yard run, a play where Cooper Kitchen made a touchdown saving open field tackle.
After a clean penalty free first half, both teams hurt themselves with a costly penalty that negated long gains.
With 5:51 left in the third quarter, Winner broke a run down the right sideline 60 yards to the Canton 15. An illegal block in the back brought the ball back and the drive stalled when Winner coughed up the football and Carson Stiner recovered. With :17 remaining in the quarter, a Canton touchdown was negated by a holding penalty.
Following the Knapp touchdown, South fumbled the ensuing kickoff. Canton's drive stalled and that set up a decision from the Canton sideline with 4th and goal to go. The Warriors elected to kick and Knapp converted to give Canton the lead at 10-0.
South was not done. On 3rd and 10 from their own 24, quarterback Landon Lorson went deep down the left side and found Grant Bachman behind the defense for a 76-yard touchdown to make it 10-7.
Nick May then made the play of the game. On the ensuing kickoff, he picked up a squib kick at the 30-yard line, broke out of a pile in the middle of the defense and took it all the way. The extra point made it 17-7 with
8:50 left and at that point it was all but over.
Canton would tack on one more score. With 2:32 left, Bailie found Kitchen over the middle off play action from 28 yards out, bringing the score to 24-7, where it would remain.
Canton will host Muncy next week for the District IV Class A title, something they have not captured since 1990.