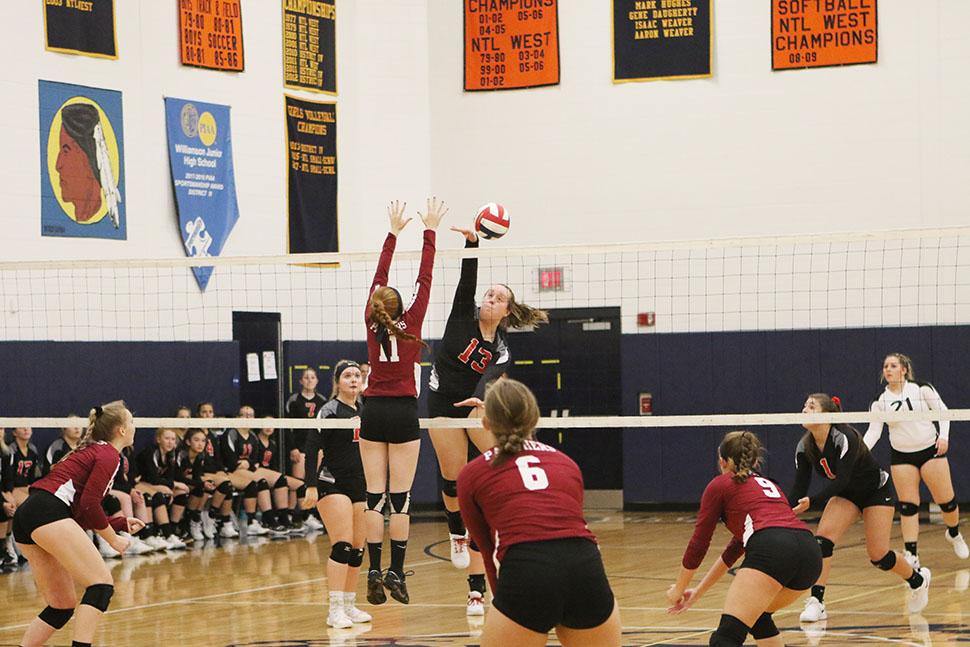 Lady Warriors advance in PIAA volleyball playoffs
By: Joe Carreon | November 8, 2019
The Canton Lady Warriors advenced to the second round of the PIAA state playoffs with their win over Mount Calvary on Tuesday, Nov. 5.
The Chargers got an early 4-0 lead over the Warriors.
They held the Lady Warriors at bay until 7-4 when Canton went on a 3-0 run to knot things up.
The teams traded points to 10-10 when Canton went on another 3-point run, starting on a Rhiley McNett kill.
Mount Calvary cut it to 14-13 after that but Annie Gaiotti scored a kill then served up five straight points to give the Warriors a 20-13 edge.
Mount Calvary never mounted a serious charge down the stretch as the Warriors won by a comfortable margin.
Canton started off the second set red hot as Emily Ferguson had three straight aces to go up 3-0. Mount Calvary then tied it up at 3-3 followed by Carmya Martell getting two straight service points for a 6-3 lead.
Canton pushed their advantage to 9-4 when Mount Calvary began the rally.
They chipped away at the Warrior's lead, eventually tying it at 11-11. The two teams traded points to 15-15 when the Canton scored back to back points, starting on a McNett kill, to go up 17-15.
Things fell apart from there as Calvary tied it at 17-17 then recorded three straight points to go up 20-17.
Canton cut the Mount Calvary lead to 21-19 before the Chargers road the serving of Kacy Robinson to push their advantage to 24-19.
Mount Calvary's Kami Mummau secured the win with a kill and the teams were tied at 1-1.
The Chargers led to start the third set, going up as much as 7-1 and 12-5 before Canton rallied.
A Jillaney Hartford kill got them going as Esther Martin followed that up with five straight service points to cut it to 12-11.
The two teams traded blows after that until Hartford had three straight service points of her own to give Canton a 15-13 lead.
They would push their advantage to 18-15 before it was the Chargers' turn to come back, tying things up at 20-20.
A Martin ended that run then followed that up with an ace to give them a 2-point lead.
Mount Calvary cut it to 1-point lead with a Mummau kill but Canton took the next three points for the win, ending on a McNett kill.
The Warriors took the lead early in the fourth set, going up 4-1 thanks to three service points from Martell.
They kept it at a 2-3 point advantage, extending it to 10-6 and 13-9 at two points before the Chargers scored four straight points to knot it up at 13-13.
The Warriors scored two straight points after that and would again extend their lead to four points (19-15). And the Chargers came back again, cutting it 19-18 on three straight points.
A Hartford kill ended that run which she followed up with an ace, much like Martin in the set before. Mount Calvary made that three point lead evaporate again, cutting it to 22-21.
A McNett kill forced the Chargers to call a timeout.
Down by two points Mount Calvary got a point on a Canton kill attempt that was out of bounds. They tied it up at 23-all but their ensuing serve was out of bounds.
Leading by one and one point away from a state berth Mount Calvary struggled to handle Martell's serve. The ball popped up just over the net and McNett finished it with her 13th and final kill of the night, sending the Warriors to the second round.
Hartford finished with seven points, six aces, nine kills, two assists and three digs while Gaiotti had seven points, two aces, six kills and six digs.
Martin had 11 points, four aces, four kills, five assists and five digs; Emily Ferguson had seven points, two aces, six kills, two assists and three digs; Jillian Shay had five points, one assist and 17 digs and Martell
finished with nine points, an ace, two kills, 29 assists and 19 digs.
They will take on District V champion Berlin Brothersvalley on Saturday, Nov. 9 in Bellefonte.