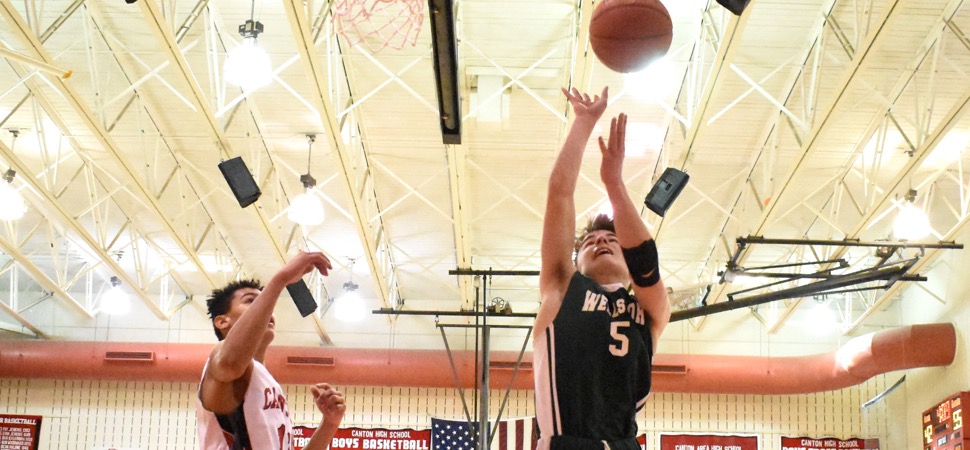 Warriors fall to Hornets, 66-44
By: Ed Weaver | December 21, 2019
The Canton Varsity Boys Basketball team dropped a 66-44 game at home against Wellsboro on Friday, December 20.
Wellsboro jumped out to a 15-9 lead after the first quarter then went on a 19-8 run in the second to build a 34-17 halftime lead.
Canton rallied in the third quarter and outscored the Hornets 21-13 to cut Wellsboro's lead to 9 points, 47-38. Wellsboro went on to ourscore Canton 19-6 over the final 8 minutes to claim the win.
Isaiah Niemczyk led Canton with 16 points and Caiden Williams dropped 10. Ben Knapp pitched in with 5 points, Cooper Kitchen and Zach Rentzel added 4 points each, Cameron Bellows scored 3 points, and Tyler Jannone scored 2 points.
Four Hornets scored in double figures on the evening, led by Joseph Grab with a game-high 20 points. Isaac Keane scored 12 points and grabbed 7 rebounds, Liam Manning scored 11 points, and Darryn Callahan finished with 10 points. Conner Adams had 8 points and Ty Morral rounded out the scoring with 5 points.
Adams also added 6 rebounds and Grab dished out 7 assists.
Wellsboro started out the evening edging Canton, 46-44 in the JV game. Niemczyk led Canton with 16 points and Ryan Sweet paced Wellsboro with 15.
The loss drops the Warriors to 3-3 (1-3 NTL Small School Division). The team is back in action this evening at Muncy.
About the Author