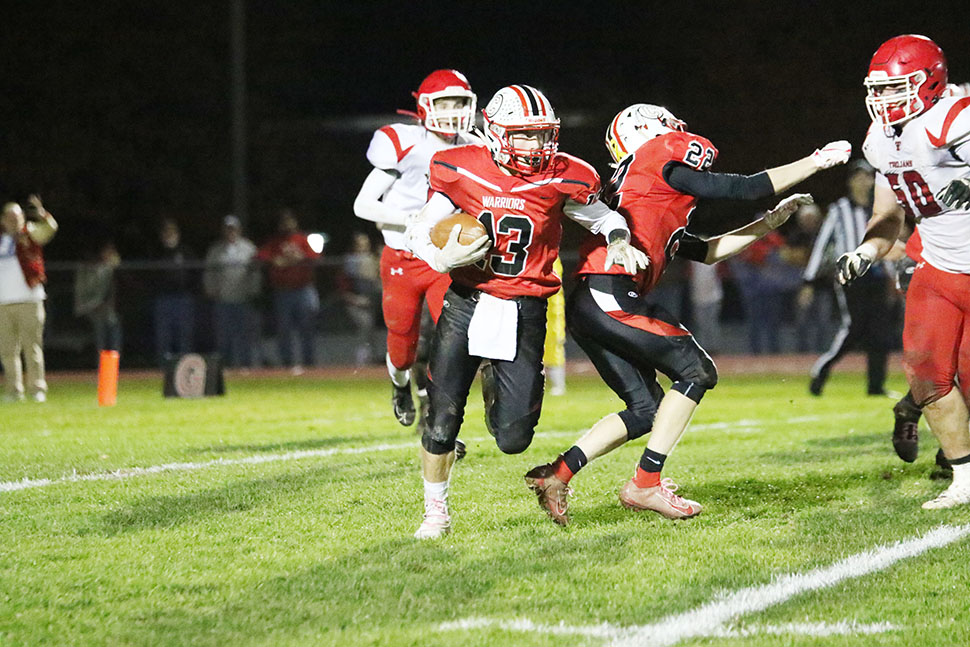 Warriors fall to Troy 21-14 in Old Shoe Game
By: Joe Carreon | October 26, 2019
The stakes were already high coming into a rivalry game such as this. The mantra on the night: bring home the shoe. That's what Troy and Canton came to play for. However, there was still waymore at stake for the
Trojans. With a win the Trojans would win the NTL crown outright and not have to share it as they did a season ago. The Trojans took care of business in a 21-14 win over Canton on Friday night.
On the second play from scrimmage Uriah Baillie hit Nick May for a 14 yard play, then on third and 10 Baillie scrambled for 35 yards down to the Troy 27 yard line.
Troy pushed them back to the 35 yard line to force a third-and-18 when Baillie found May again, this time 29 yards down to the Troy 6-yard line.
Baillie then rushed it in on the next play. Ben Knapp added the point after to make it 7-0 just 3:48 into the game.
Then on the ensuing kick-off Canton lined-up and ran like May was going to send it deep, but onside kicked it and the Warriors recovered.
Troy's defense stiffened, holding them to two yards on three straight plays.
Then on fourth-and-8 Canton turned it over on downs as Baillie was sacked by Mason Imbt.
Troy's own offense sputtered on their first possession. An 8-yard Binford run on third down gave them a first but back to back no gains by Landon put them in a hole that they couldn't get out of.
Two plays later they turned it over on downs.
This next possession started a stretch where Canton wasn't able to register a first down. Their last four possessions of the first half ended with three three-and-out punts and an interception.
Troy took over on their own 29-yard line.
Two plays, on the first play of the second quarter, Binford broke free on the left side for a 68-yard scoring strike.
The 2-point conversion was no good but it was a momentum changer, cutting the deficit to 7-6.
Canton punted on their next drive, pushing Troy all the way back to their own 12 yard line due to a block in the back penalty.
Starting there the Trojans went 88 yards on 15 plays to get the lead on a 2-yard punch from Landon.
13 of the plays were runs, including a crucial 11-yard run by Ayers on 4th-and-7 from the Canton 43. Two plays later he hit Binford on a 10-yard passing play to get down to the red zone.
A 5-yard Ayers run followed by an 8-yard Binford run gave them first and goal. Canton was called for back to back encroachment penalties that set up the touchdown run.
The 2-point conversion was good this time — Ayers hit Ridge Spencer in the endzone — to give them a 14-7 lead with 3:56 left in the half.
After another Canton 3-and-out Troy took over on their own 17-yard line.
A 28-yard run by Landon on the second play from scrimmage got them to mid-field. A holding call backed up Troy up but a 37-yard scamper on third-and-20 by Binford set Troy up for another touchdown.
But on the next play from scrimmage Ayers' pass to the endzone was picked off by Cooper Kitchen.
Two un-sportsmanlike penalties on the play by Troy gave Canton good field position, on the Trojan 43, with less than a minute to play.
However, Baillie's pass on the first play from scrimmage was picked off by Gavin Cocick, sending the game to halftime 14-7.
Binford was Troy's start in the first half, rushing for 138 yards on nine carries with Canton held to 90 total yards.
However, Troy was flagged eight times for 84 yards, which they were able to overcome for two scores but not what a coach wants to see in a pivotal game.
The Trojans received the kick-off to start the second half and did what they had done all year.
Starting at their own-43 they went 57 yards on 15 plays, 14 of them runs, for a touchdown.
The second half is Landon time as he had nine carries for 41 yards and the score though the key play was an 11-yard pass play from Ayers to Binford on third-and-8 to keep the drive alive.
The possession took up most of the third quarter, Troy scored with just 3:53 left on the clock, and took a 21-7 lead as Ben Hickock hit the point after.
Just as it looked like Troy might pull away Canton was able to generate some offense on their first possession.
Hayden Ward picked up eight yards on the first play from scrimmage on a jet sweep followed by a 17-yard run two plays later by Baillie.
A Troy personal foul set Canton up on the Trojan 44-yard line.
Back to back runs by Baillie of 15 and 16 yards got them down to the Trojan 10-yard line, setting up a first and goal.
But the running lanes closed up on the next two plays. On third down Baillie over threw Knapp in the corner of the endzone while on fourth down his pass to Ward was also incomplete, turning the ball over on downs.
The Canton defense dug in on Troy's next possession, forcing them into a three-and-out.
Starting on their own 41-yard line the Warriors did get into the endzone this time.
The drive started out with an 8-yard pass play from Baillie to May followed by a Baillie 21-yard run two plays later to get to the Troy 28-yard line.
Canton then ran a reverse to Ward that fooled the Troy defense. A Baillie block freed up Ward, who leaped over his quarterback into the endzone.
Knapp's point after was good and the 28-yard run put Canton back into the game, cutting it to 21-14 with 8:34 left to play.
But they would never get the ball back.
Starting on their own 32-yard line Troy ran off 16 plays to run out the clock. They leaned heavily on Landon, who had 10 carries for 48 yards on the drive, which ended at the Warrior 9-yard line.
They picked up five first downs on the drive to ice the game.
Ayers finished with 30 yards rushing on nine carries while going 2-for-5 for 21 yards through the air. Binford caught both passes.
Baillie had 115 yards and a touchdown on 19 carries while throwing for 58 yards on 5-for-16 passing.
Ward had two carries for 36 yards while May had the big night receiving with 52 yards on four catches.
Troy had a 16-9 edge in first downs but was penalized 11 times for 109 yards. Canton was flagged three times for 20 yards, all in the first half.
The Warriors and Trojans will both turn their attention to District play that begins this weekend. The Warriors will host South Williamsport on Friday, Nov. 1 at Miller A. Moyer Field in Canton at 7 p.m. The Trojans will also have a home match-up against Line Mountain at Alparon Park on Saturday, Nov. 2 at 7 p.m.