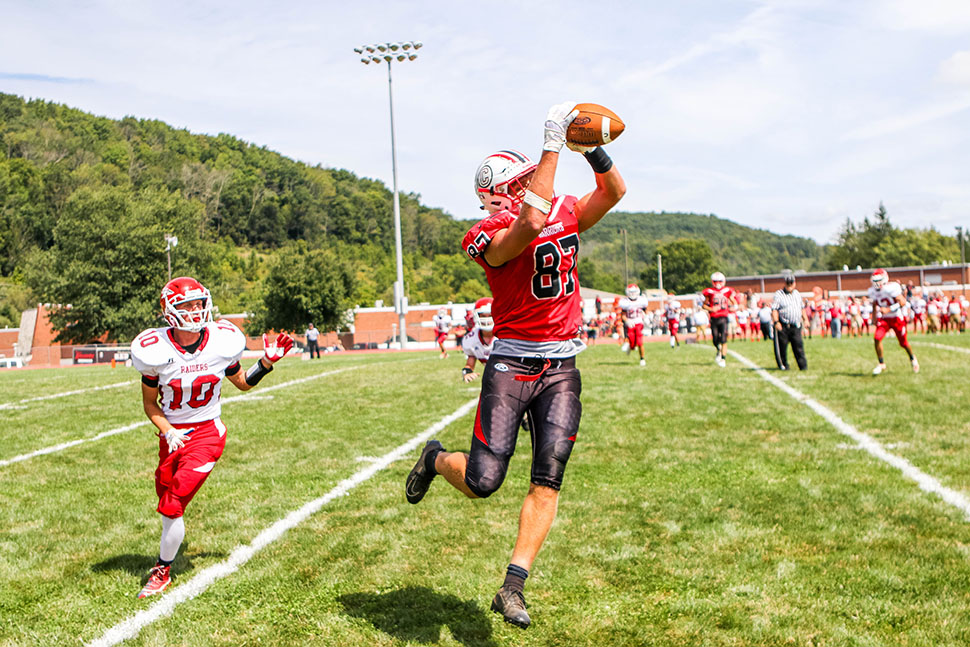 Warriors move to 3-0, remain undefeated
By: Joe Carreon | September 12, 2019 / Photo: Joe Carreon
For the second consecutive year the Canton Warriors have earned a 3-0 mark to start the season after a 44-15 win over the Wyalusing Rams on Friday, Sept. 6.
The Warriors got on the board first with a 55 yard run from Quarterback Uriah Baillie.
Wyalusing then took the field on offense but was not able to get anything going.
After a punt the Warriors offense took the field again . This time a Baillie 36 yard completion to Nick May set up Carson Stiner one yard run. Canton now led the Rams 13-0.
The Warrior defense forced another three and out. Baillee and the offense went to work. Stiner broke free for a 50 yard run and score and later in the half the offense got the ball back again that set up a 23 yard Benjamin Knapp field goal.
Wyalusing was able to find their footing in the second half against Canton's second stringers. Quarterback Mitchell Burke was able to find Kashawn Cameron on a deep pass after evading multiple sacks from the Canton linemen for a 46 yard score.
After the score, Canton's first stringers came back on the field and ended up turning the ball over on downs deep inside Wyalusing territory. The Canton defense, again, forced a three and out and gained great field position inside the Rams 15 after a poor punt.
Owen Wesneski then pounded in a six yard rushing touchdown to extend the Canton lead to 37-7 after the extra point.
Wesneski would end up scoring one more time in the game, two drives later on a nine yard run.
Baillie finished the game 4-15 passing for 104 yards. Baillie also rushed for 192 yards on 18 attempts with one touchdown.
Stiner rushed for 148 yards with two touchdowns. Owen Wesneski carried the ball eight times for 32 yards and two touchdowns.
May hauled in two passes for 83 yards.
The Warriors play at home again for the cap of their three game home stand against Bucktail on Friday night.