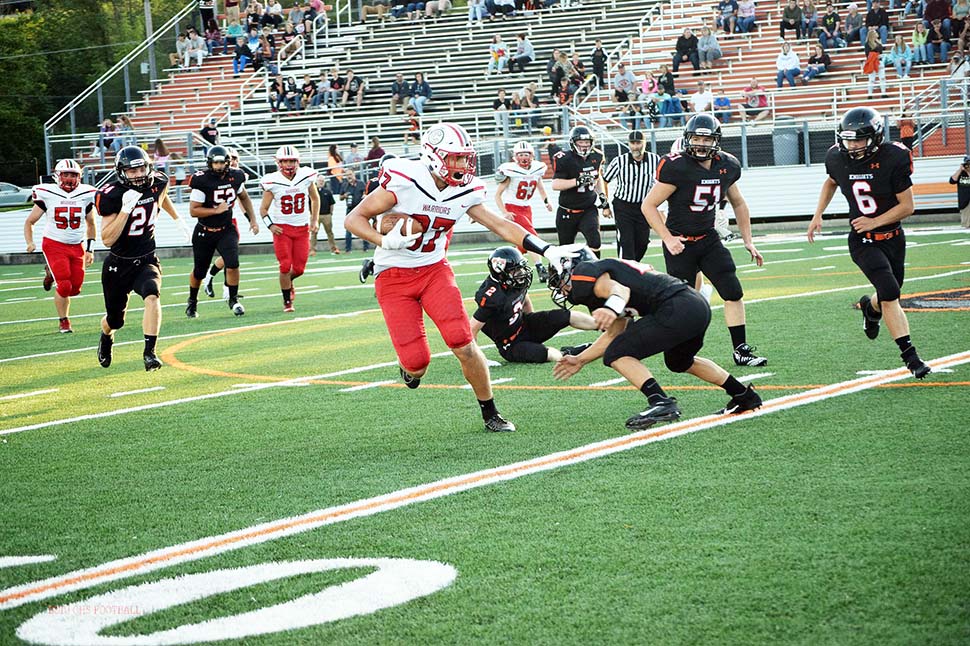 Warriors roll to 40-6 win over Towanda
By: Joe Carreon | August 27, 2019
In what was a week one shootout a year ago, The Canton Warriors put up a dominant performance over the Towanda Black Knights on Friday, Aug. 23 with a 40-6 win.
The Warriors ground attack was prominent on the night with 258 yards.
The Warriors relied on Quarterback Uriah Baillie and tailbacks Carson Stiner and Owen Wesneski.
Stiner led all runners with 99 yards and two touchdowns on 12 carries. Wesneski had 85 yards on 11 carries and Baillie added 81 yards and two touchdowns on the ground.
Baillie struggled to throw the ball in the contest finishing 7-13 for 168 yards but looked better at the end with a strike to Benjamin Knapp on a fade route. Knapp ended the game with 4 catches for 142 yards.
The Black Knights offense struggled to get any traction throughout the game as they were held under 200 yards of total offense.Defensive lineman Keegan Nelson and linebacker Garrett Storch did a good setting the tone on that side. Nelson made some big tackles for loss in the Towanda backfield during the first half while Storch did a good job tackling in space — important when facing a slippery quarterback like Tanner Kunkle.
Tanner Kunkle finished the game with 29 yards rushing on 13 carries. If total yards run we're counted, not just yards gained or loss, he was have easily finished with over 100 as he was scrambling left and right to try to make something happen for most of the game.
The Warriors took the opening kick-off and wasted no time, marching down the field as they scored on a 7-play, 56 yard drive that ended with Baillie finding a seam for a 10-yard strike. Knapp added the point after to make it 7-0 with just 2:59 off the clock.
After a Towanda 3-and-out Canton went to work again — this time going 59-yards on four plays for a 7-yard Baillie score.
That was set up by a 64-yard hook up of Baillie to Knapp.
The Knapp kick was good and the Warriors led 14-0 with 6:01 left in the quarter.
Towanda went 3-and-out on their second drive, giving the ball back to Canton on the Knight 38-yard line.
The Black Knight defense stiffened, though, forcing a turnover on downs as they stopped the Warriors on the 19-yard line.
On Towanda's third drive they got a first down — Kunkle ran for 15 yards on third-and-3 but Towanda was forced to punt for the third straight possession.
Starting on their own 31-yard line Canton continued to pound the ball, putting together a 12-play scoring drive that ended with a 1-yard punch from Stiner.
The Warriors ran the ball 10 times that drive, gaining 53 yards.
The Warriors will now turn their attention to a 1 p.m. Saturday home match-up against the Montgomery Red Raiders.