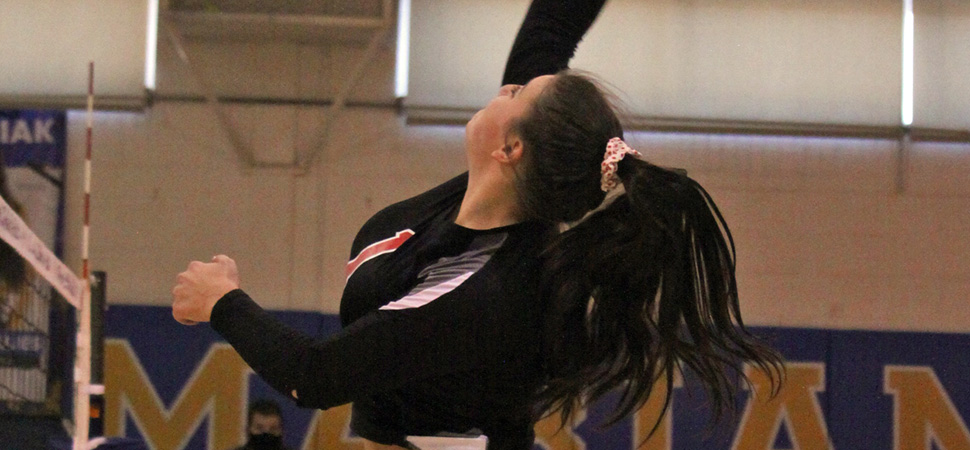 Canton falls to Marian Catholic in PIAA volleyball quarterfinals
By: Chris Manning | November 15, 2020 / Photo: Chris Manning
TAMAQUA — Canton came up short against Marian Catholic in the PIAA, Class A volleyball quarterfinal Saturday.
They lost in straight sets, 3-0, with the games 25-18, 25-15 and 25-23.
Annie Gaiotti had four points, four kills, 10 digs and an assist for Canton while Jillian Shay had five points, six digs and an ace.
Carmya Martell had five points, nine assists, nine digs, three kills and an ace as Gracie Covert had four points, two blocks and a dig.
Jillaney Hartford had four kills, a dig and a block as Aislyn Williams finished with four points, six digs, two blocks and a kill.
Rachel Martin had two points, three kills, two assists and four digs with Trisha Gilbert getting a point, four digs and a kill.
Marian Catholic jumped out to a 5-1 lead in the first set but Canton cut it to 8-7. The Fillies extended the lead to 20-12, however, the Warriors would out score them 6-5 in the final 11 points for the 25-18 final.
The Fillies had runs of seven and six points to take a 12-2 lead in the second set. Canton would cut it to 13-5 but a 7-2 run by the Fillies gave them a 20-9 lead.
The closest the Warriors got was eight points before falling 25-15.
The third set was a classic barn burner as the Warriors took their first lead of the match, going up 10-6 one point. The Fillies out scored them 8-2 to take a 14-12 lead but then it was Canton's turn to go on a run, taking a 19-17 lead on the back of a 7-3 push.
The Fillies responded with a 4-0 run to go up 22-19. After the two teams traded points Canton went on a 3-0 spurt to knot things up at 23-all.
Marian would get the final two points, though, for the 25-23 set victory and match win.
Canton finishes the season 17-3.