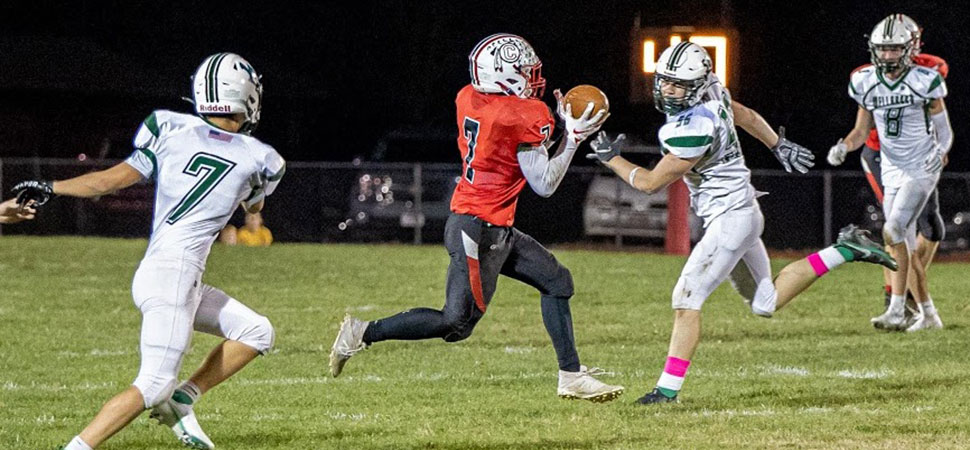 Canton sets tone early in 39-13 win over Wellsboro
By: Tim Birney | October 24, 2020 / Photo: David Alliger/Traveling Portraits
CANTON — Canton scored 19 points before Wellsboro registered a first down on its way to a 39-13 win here Friday night at Miller A. Moyer Field.
"We talked about coming out and setting the tone, and letting (Wellsboro) know we're here to play. I thought we did a good job of that," said Canton coach Tyler Sechrist.
The Canton defense held Wellsboro scoreless deep into the fourth quarter. It allowed 280 yards in total offense, but 107 of those yards came in the last 4 1/2 minutes against the Warrior reserves.
"Our defense has played tough all year, we've been shutting people down.
"They have a really good quarterback," said Sechrist. "Our game plan coming in was, we felt like we could stop the run, so we took away the pass as best we could, and tried to put some pressure on him."
Offensively, the Warriors ran for 236 yards, and threw for 104 more.
"We've been a very good running team this year, and I told the guys we needed to establish the run," said Sechrist.
"Then, (Wellsboro) wasn't playing a safety back because we were running so well, so we took some shots deep without that safety there," he added.
Canton dominated from the outset, using a 10-play, 69-yard drive following the opening kick-off to take a 6-0 lead.
Sophomore Riley Parker busted off an 11-yard run on the first play from scrimmage, and junior QB Cooper Kitchen followed with a 28-yard scamper to move the ball to the Wellsboro 41.
After another first down, Canton was hit with a holding call and faced a first-and-18 at the Hornet 36. Three plays later, facing fourth-and-seven, a Wellsboro defensive back bit on a pump fake, and Kitchen dropped a perfect pass into the hands of Weston Bellows for a 25-yard TD with 7:58 remaining in the first half.
After the Warrior defense forced a three-and-out, the offense marched 67 yards on five plays to up its lead to 13-0 with 4:36 remaining in the first quarter.
Kitchen opened the series with a 10-yard run, then Parker busted loose for 47 yards to the Wellsboro 10.
Three plays later, Kitchen hit 6-5 senior tight end Ben Knapp on a quick slant for a 6-yard TD. Senior Tyler Jeannine's tacked on the PAT kick.
Wellsboro fumbled the ensuing kickoff and Canton recovered at the Hornet 26, but the Warriors fumbled it right back on the next play.
Four plays later, the interior of the Warrior defensive line stuffed Isaac Keane on a fourth-and-inches QB sneak to force a turnover on downs at the Hornet 47. On third-and-1, sophomore Mason Nelson and junior Conner Davis combined on a tackle of Darryn Callahan to force a fourth down.
After five running plays and a personal foul call against Wellsboro moved the ball to the Hornet 12, Canton was flagged for holding and faced a 2nd-and-13 at the 15. Thanks to a play-action fake, Kitchen hit senior Joel Schoonover in stride for a 15-yard TD pass with 11:30 remaining in the first half to up the lead to 19-0.
Wellsboro took the ensuing kickoff, converted their first two first downs — thanks to a 13-yard completion from Keane to Joe Brown, and a 21-yard completion to Conner Adams — and moved into Canton territory, at the 49.
However, Schoonover ended the threat on the next play when he stepped in front of a Keane pass and returned it to the Canton 47.
After an exchange of punts, the Warriors took over at their own 47 again, and scored quickly on a 51-yard TD hook-up between Kitchen and Bellows, who picked up a big block downfield from Knapp on his way to paydirt. Jannone's PAT kick made it 26-0 with 5:23 remaining in the first half.
Wellsboro moved the ball to the Canton 25 on its next possession, but the Warrior defense stiffened and forced a turnover on downs.
A Canton punt left Wellsboro at its own 19 late in the first half, but a personal foul call tacked on after a 9-yard run by Adams moved the ball to the Hornet 42.
Two plays later, with just 4 ticks on the clock, Keane dumped a short pass over the middle to Brown, who rumbled 50 yards, but was brought down at the Canton 2 to end the half.
Wellsboro opened the second half with a third-and-14 conversion on a 27-yard pass from Keane to Adams, but four plays resulted in a loss of three yards, and the Hornets turned the ball over at their own 48.
Five plays later, sophomore Hayden Ward capped the drive, which was aided by 15-yard personal foul against the Hornets for a late hit out-of-bounds, with a 4-yard TD run to make it 32-0 with 7:22 remaining in the third quarter.
After an exchange of punts, Wellsboro fumbled the ball away again at its own 39.
Back-up QB sophomore Bailey Ferguson ripped off a 22-yard run to the Hornet 17, but the Warriors turned the ball over on downs four plays later at the 20.
On the next play, Bellows stepped in front of an Adams pass to give the Warriors the ball back at the Hornet 25.
Seven plays later, thanks to a face-mask call against Wellsboro, freshman Michael Davis capped the short scoring drive with a 3-yard TD run with 7:55 left in the contest. Jannone's extra-point kick made it 39-0.
Wellsboro scored on a 35-yard TD run by Adams with 4:35 left in the game, and a 3-yard TD run by Nik Smith on the final play of the game.
Parker led the Canton ground game with 111 yards on 10 carries.
"(Riley Parker) is not super-big, but he had good hips, he has good eyes, and he finishes runs," said Sechrist.
Kitchen, who ran for 69 yards, completed 5 of 11 passes for 106 yards and four TDs. Bellows was the Warriors' leading receiver with three grabs for 85 yards and two TDs.
Keane completed 7 of 19 passes for 134 yards, but was picked once. Adams was 3-for-6 for 51 yards and one interception. Brown led the Hornets with 88 yards on four catches.
Adams, who had two grabs for 46 yards, led the Wellsboro ground game with 73 yards and one TD on eight carries.
Canton wraps up the regular season at 4-0, and will face Muncy next Saturday afternoon in the District 4, Class A championship game for the third consecutive season.
The Warriors have won the regular-season match-up in each of the last three season, including a 19-0 win last week, but the Indians have won the District 4 title each of the last two years.
Sechrist said the Warriors won't do anything different in terms of preparation this week.
"We just need to keep playing like we've played all year," he said. "These kids have been resilient, and they've been relentless. They play hard, and they're not going to quit.
"We need to keep doing what we're doing, and treat it like any other game," added Sechrist.
Game time is 1 p.m. at Miller A. Moyer Field.
FOR MORE PHOTOS, visit Northern Tier Sports Report.
About the Author