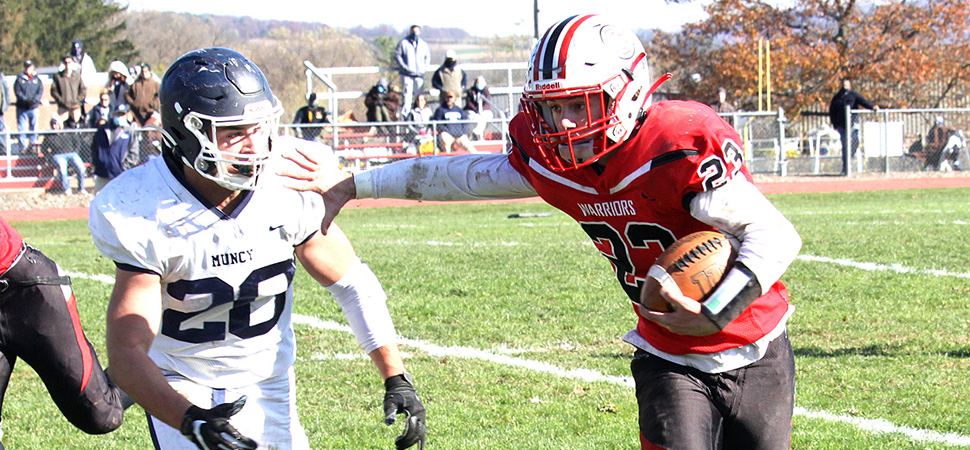 Warriors fall to Indians in D4 championship game
By: Chris Manning | November 1, 2020 / Photo: Chris Manning
CANTON — Canton lost 21-16 to Muncy in the District IV, Class A title game Saturday.
The Warriors didn't record a first down until their fourth possession of the contest but scored on back to back drives to take a 16-7 lead.
Two big plays by Muncy - a 78 yard touchdown run by quarterback Branson Eyer and a 41-yard interception return for a touchdown by Ross Eyer - proved to be the difference.
Canton was without three players due to Covid-19 quarantine measures.
Hayden Ward led them in rushing with 91 yards on 25 carries while Weston Bellows added 65 yards and a score on nine rushes.
Cooper Kitchen was 6-for-13 passing for 42 yards, a touchdown and two interceptions. Joel Schoonover had a 20-yard touchdown catch.
Muncy scored on the opening drive of the game as Ethan Gush ran in 35-yards for pay dirt. That ended an 11-play, 85-yard drive.
Loudon Boring kicked the point after and Muncy led 7-0 at the 6:59 mark.
Nobody did anything else until the final possession of the half when Canton went 80 yards on 12 plays to score as, on 4th-and-5 Kitchen hit Schoonover for the 20-yard touchdown hook-up.
Ward ran in the 2-point conversion and it was Canton 8-7 at the half.
The Warriors also scored on the opening possession of the second half.
This one was quicker, going 65-yards on six plays ending with a Bellows 16-yard touchdown run. Ward punched in the 2-point conversion to put the Warriors up 16-7.
Muncy would score on the ensuing drive as, on 3rd-and-long, Branson Eyer broke free from pressure and ran for the 78-yard touchdown run.
Boring added the point after but Canton still led 16-14.
Things stayed that way until the 1:53 mark of the third quarter when Ross Eyer picked off a Kitchen pass and returned it 41-yard to pay dirt. Boring's kick was good and Muncy led 21-16.
Canton got inside the Indian 10-yard line on the next drive but were stuffed on 4th-and-1 and the 8-yard line. That's as close as they got to taking a lead.
This is the third time in three years that Muncy has defeated Canton in Warrior Country for the District IV, Class A title.