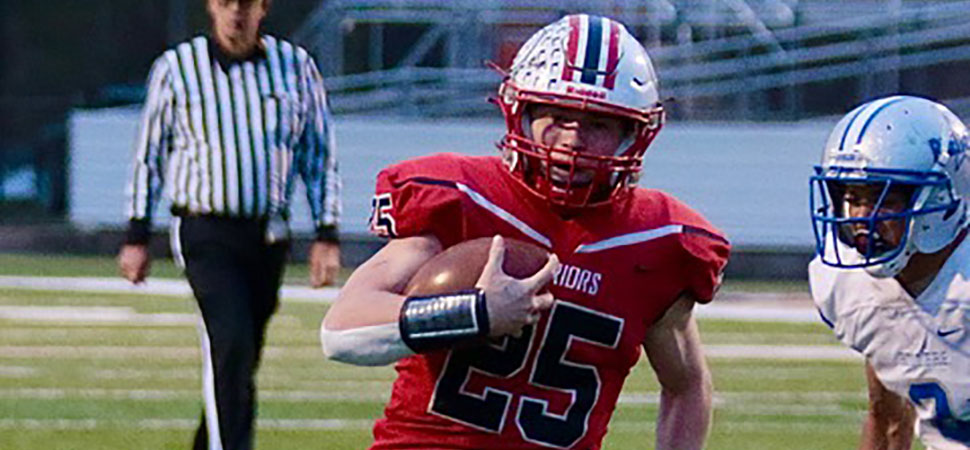 Canton wins 1st state playoff game
By: Chris Manning | November 21, 2021 / Photo: Lance Larcom
TOWANDA — Canton used a strong ground game and opportunistic defense to beat the defending state champions, Steelton-Highspire, 32-27, in the first round of the PIAA, Class A football tournament.
The Warriors rushed for 261 yards, led by Riley Parker's 134 yards and four touchdowns on 24 carries. Wes Bellows added 10 carries for 44 yards, Hayden Ward had 37 yards on nine carries, and Cooper Kitchen finished with 46 yards on nine carries.
Canton also had four takeaways - two interceptions from Wes Bellows and two fumble recoveries - from which they scored four touchdowns.
After a back and forth start to the game it was Bellows' first interception which set up Canton's first scoring drive, a 10-play, 65-yard possession that ended with a 7-yard Riley Parker touchdown run. Bailey Ferguson added the point after, and the Warriors went up 7-0 with 2:28 left in the first quarter.
The Steamrollers would strike back on the first play from scrimmage on the ensuing drive as Daivin Pryor ran 64-yards to the endzone. Tyrone Moore's kick after was good, and it all tied up at 7-7.
Canton would score next late in the first half on a third-and-long 89-yard pass play from Kitchen to Bellows. The extra point was blocked, but the Warriors now led 13-7 with 3:55 left in the second quarter.
Steelton-Highspire would answer again, this time with a 7-yard pass from Alex Erby to Jaieon Perry with 26.8 seconds left in the half. Moore's kick was good and it was a 14-13 Steamroller lead at the break.
In the third Canton used two fumble recoveries to set up back to back Parker scoring runs, the first for 15-yards, the second for 16-yards, as they took a 25-13 lead with 3:48 left in the third quarter.
The Steamrollers cut it to 25-20 thanks to a Pryor 25-yard run with 2:12 on the clock in the third quarter.
The Warriors would add another touchdown on the ensuing drive as Parker ran 15-yards to pay dirt. Ferguson's kick was good, and it was 32-20 with 10:45 left to play.
Steelton-Highspire would once again answer as Erby hit Moore for a 44-yard strike, cutting it to 32-27 with 8:59 left in the game.
The Warriors would follow with a time killing drive, turning the ball over on downs at the Steelton-Highspire 15-yard line, but with less than two minutes left to play with no timeouts.
Canton then induced four straight incompletions from Erby to take the ball back and secure the win.