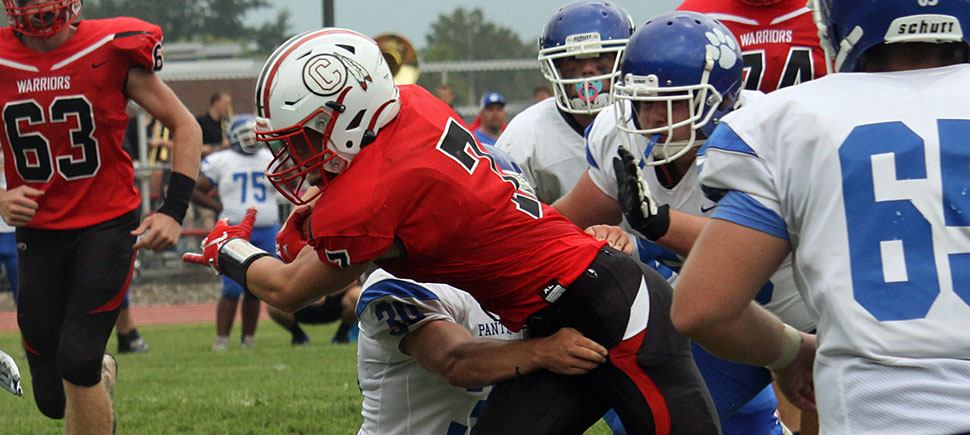 Warriors churn out win over North Penn-Mansfield
By: Chris Manning | August 29, 2021 / Photo: Chris Manning
CANTON — Canton took advantage of a hot and humid afternoon as they defeated NP-Mansfield 48-7 in NTL football action Saturday.
The Warriors used the hurry-up offense to wear out the Panther defense, running for 311 yards and five touchdowns on the day. Their own defense was stout, though, allowing just 178 total yards, and keeping NPM scoreless until late in the fourth quarter.
Eight different backs carried the ball for Canton, led by Wes Bellows' 76 yards on seven carries. Fellow back Riley Parker had seven rushes for 42 yards and score, while Bailey Ferguson had 34 yards and a touchdown on five carries and Michael Davis had four touches for two touchdowns and 36 yards.
Quarterback Cooper Kitchen ran the ball seven times for 54 yards and a touchdown, while also going 2-for-6 through the air for a touchdown. Austin Allen had the 31-yard scoring reception.
The Warriors got on the board in the first quarter as a big punt return from Parker got them to the Panther 4-yard line, where Davis punched it in on the first play from scrimmage. Ferguson added the point after, and Canton 7-0 with 4:52 left in the first quarter.
The Warriors scored four times in the second quarter, with three of the touchdowns coming off the hurry-up offense.
Cooper Kitchen had a 2-yard run with 9:12 left in the half, followed by Ferguson scoring on a 7-yard run with 5:37 left.
Parker returned a punt 54-yard to the house with 4:01 left to play, while, with 34 seconds the clock, Kitchen hit Allen for a 31-yard scoring strike.
Ferguson made all four extra points to put Canton up 35-0 at the half.
The Warriors came out in the third quarter and scored on their opening drive as Parker took it to the house on a 12-yard run. Ferguson missed the kick, but the Warriors led 41-0 with 5:58 left in the third.
In the fourth Davis added a 3-yard scoring run with 6:20 to go. Ferguson's point after pushed the lead to 48-0.
NP-Mansfield scored a touchdown with 1:45 remaining to make it a 48-7 final.
Canton will host Towanda on Friday with a 7 p.m. start.