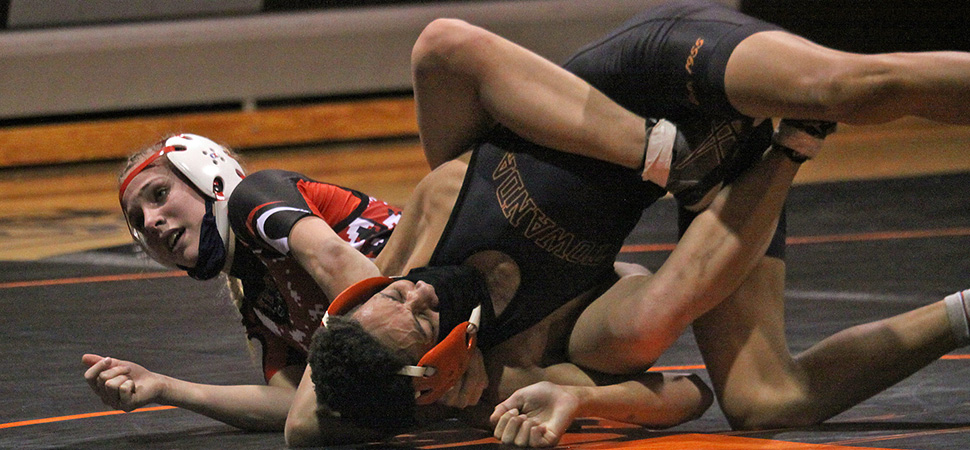 Warriors cruise past Towanda on the mats
By: Chris Manning | January 20, 2021 / Photo: Chris Manning
After losing the first bout Canton won the next seven to beat Towanda 60-15 in NTL wrestling action Wednesday.
They won 10 of 13 matches, nine of them by falls.
At 285 Towanda's Alex Perez scored a 10-7 win over Mason Harold to put them up 3-0.
Cohen Landis started Canton's streak, pinning John Parker in 3:56 at 106. Then his older brother Isaac Landis pinned Dalton Lunn in 54 seconds at 113.
Miah Lehman (120) rallied in the third to pin Mykee Nowell in 4:52 followed by Brayden Wesneski (126) earning a forfeit.
Canton then got three more falls as Bailey Ferguson (132) pinned Joey Vanderpool in 3:43, Hudson Ward (138) pinned Dillon Gallagher in 1:15 and Hayden Ward (138) pinned Garrett Chapman in 56 seconds to take a 42-3 lead.
Towanda's Evan Johnson (152) stopped the bleeding with a fall over Michael Davis in 3:33.
The Warriors won the next three bouts as Riley Parker (160) pinned Zayne McPeak in 32 seconds, Brenen Taylor (172) pinned Brandon Lantz in 3:22 and Derek Atherton-Ely (189) pinned Spencer Jennings in 1:03.
Towanda's Clay Watkins (215) scored a fall over Gage Pepper in 3:47 to end the match.
Canton travels to Troy on Thursday.