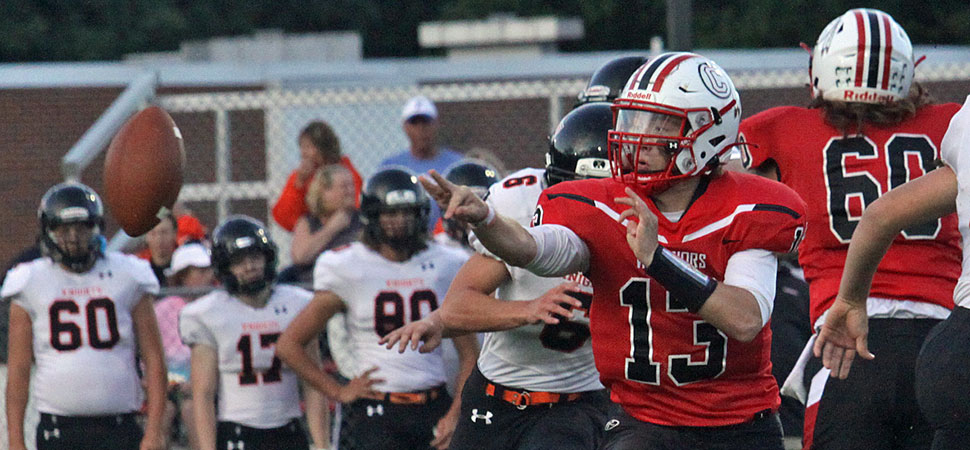 Warriors shut out Black Knights, 52-0
By: Chris Manning | September 4, 2021 / Photo: Chris Manning
CANTON — Cooper Kitchen had five touchdowns - four of them rushing - on his birthday as the Warriors defeated Towanda 52-0 in NTL football action.
Kitchen finished with 53 yards rushing seven touches, while Hudson Ward had 63 yards rushing on four carries with a touchdown, as well. Hayden Ward had 59 yards rushing on three carries, while Riley Parker had 45 yards rushing with a score on four carries.
Wes Bellows had a 57 yard touchdown reception.
Kitchen had a 7-yard touchdown run with 9:53 left in the first quarter to start things off for Canton. Bailey Ferguson added the point after, and the Warriors led 7-0.
Kitchen then scored on a 12-yard run, followed by a 57-yard pass to Bellows, to make it 19-0 after the first quarter.
Parker started off the second quarter with a 29-yard touchdown run, with the point after added by Conner Foust. Kitchen then had a 25-yard touchdown run, and a 5-yard scoring run to make it 38-0 at the half.
In the third quarter Parker returned an interception 90-yards for a touchdown, as Ferguson added the point after. Later in the third Hudson Ward ran in a touchdown from 30-yards out, with Foust splitting the uprights for the PAT.
Canton will now hit the road for the first time as they travel to South Williamsport Friday.