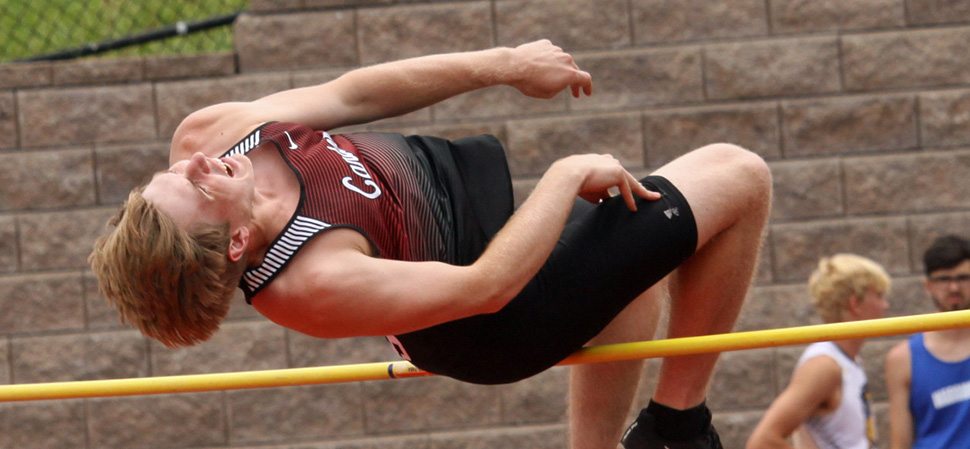 Williams medals at D4 Track Championships
By: Chris Manning | May 23, 2021
Canton's Caiden Williams medaled in the high jump during the District IV, Track and Field Championships last week.
He jumped 5-feet, 9-inches to tied for fifth, and nearly came away with a state berth in the process. State qualifiers jumped 5-feet, 11-inches.
Williams was also 11th in the shot put at 40-feet, 4-inches, 13th in the discus at 110-feet, 4-inches, and 15th in the triple jump at 37-feet, 6-inches.
Isaiah Niemczyk took 10th in the long jump at 19-feet, 4-inches, 11th in the triple jump at 38-feet, 3 3/4-inches, and was 15th in the 400 at 54.60.
He was also part of a 4x400 relay that took 12th in 3:47.06. Also on the relay were Hunter Ostrander, Mason Shultz, and Connor Foust.
Foust was 17th in the 200 at 24.63.
Also for the boys, Derek Atherton-Ely was 17th in the javelin at 133-feet, 10-inches, and 20th in the shot put at 38-feet, 8-inches.
On the girls' side, Camille McRoberts was 17th in the 800 in 2:35.79, and 17th in the 1600 in 5:44.77.
Reagan Kelley threw 29-feet, 7 1/4-inches to finish 14th in the shot put.
The girls' 4x400 relay of Natalie Kapichok, Kali Wesneski, McRoberts, and Laci Niemczyk was 13th in 4:31.51. Their 4x800 relay of McRoberts, Wesneski, Kapichok, and Niemczyk was 13th in 11:25.09.