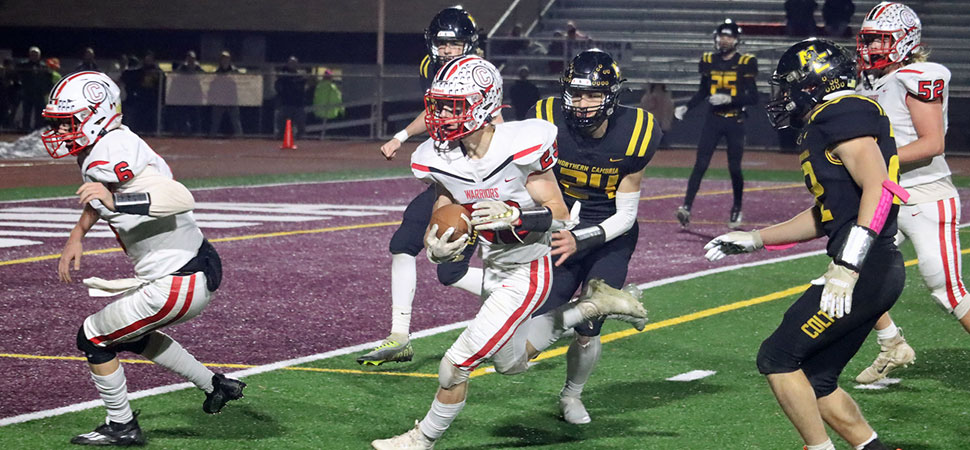 Canton Advances To State Semi-Finals After 42-13 Win Over Northern Cambria
By: Chris Manning | November 28, 2022 / Photo: Chris Manning
ALTOONA — Canton dominated in all three facets of the game as they used a first quarter blitz in their 42-13 win over Northern Cambria during the PIAA, Class A Football Quarterfinals.
"They have the fires in their eyes," Canton coach Tyler Sechrist commented after the game.
It was hard to argue otherwise as they had three touchdowns in the first four minutes. The Warriors would eventually take a 28-0 first quarter lead before the Colts got on the scoreboard.
While Northern Cambria's defense would settle in, their offense never got comfortable, as they few answers for Canton, who held them to six first downs and even pushed them backwards on 10 plays.
The Warriors finished with over 300 yards rushing as a team, with five different backs garnering at least 40 yards in the contest.
Riley Parker led the way, running for 112 yards and a score on 11 carries, while Hudson Ward had three carries for 57 yards with a score. Holden Ward finished with 48 yards rushing on seven carries, Hayden Ward had 44 yards rushing and two touchdowns on seven touches, and Weston Bellows pounded his way for 41 yards on eight rushes.
"That feels really good," Parker said about them rushing the ball like that. "That's something we've worked hard to excel at this year. And when you come out and run the ball down the other team's throats, things just start to click."
Bellows got them started, taking the opening kick-off 77-yards to pay dirt. Bailey Ferguson added the point after to make it 7-0 15 seconds in.
Then, at the 8:32 mark, Hayden Ward struck from 24 yards out. Ferguson's kick was good for a 14-0 lead.
On the ensuing Northern Cambria possession Parker picked off a pass, and took it back 16-yards to the house. Ferguson added the PAT, and it was 21-0 Warriors with 7:38 left in the first.
Parker added another touchdown, a 2-yard run, with 1:34 left in the opening quarter. Ferguson's kick made it 28-0.
A 64-yard run on Northern Cambria's ensuing play from scrimmage set up an Owen Bougher 2-yard touchdown punch. Trey Pershing added the point after to cut it to 28-7 with 33 seconds left in the first.
The scoring slowed down after that, but Canton would get one more on the scoreboard with 39 seconds left in the half as Hayden Ward found a hole to the end zone from 12-yards out. The kick was no good, but Canton led 34-7.
In the third the Warriors would use a 49-yard Hudson Ward run to put Northern Cambria in the mercy rule. Parker ran in the 2-point conversion, and it was 42-7.
The Colts would get a fourth quarter touchdown to make it a 42-13 final.