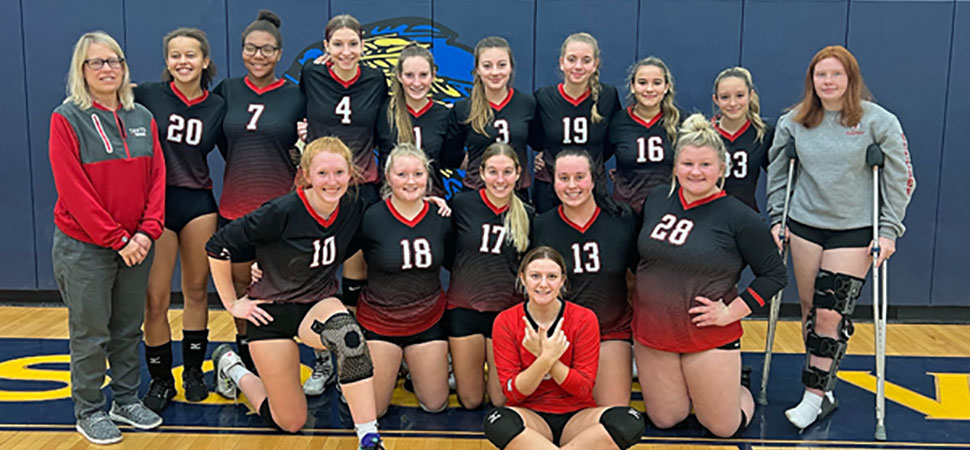 Lady Warriors Win 5th Straight NTL Small School Volleyball Title
By: Chris Manning | October 26, 2022 / Photo: Chris Manning
Canton defeated CV to win their fifth straight NTL Division-II title. They won the sets 25-18, 25-13, and 25-9.
Aislyn Williams had 10 points, seven aces, one kill, 21 assists, four digs, and a block, as Kendall Kitchen finished with 10 points, two aces, 13 digs, and five kills.
Marissa Ostrander had 14 points, eight aces, two assists, and 16 digs for Canton, while Keri Wesneski finished with 12 points, three aces, five kills, and 13 digs.
Madison Hulbert had five points, an ace, and a dig, with Chelsea Lehman adding three kills with a block.
Jillaney Hartford had seven points, seven kills, two aces, two digs, and a block, with Tara Gilbert getting seven kills, and two digs.
Canton JV lost 2-1. They won the first set 25-21, but lost the next two 25-14, and 15-4.
Gilbert had two aces, four kills, and three digs, as Abbey Marbaker finished with three kills, three digs, and an assist.
Addilyn Pepper had a kill with six assists, as Charleigh Anderson had an ace, a kill, a dig, and a block.
Kitchen finished with four aces, and a dig, as Allyson Marbaker had an ace, with two digs. Gabby Thursby notched three digs, and Lehman had a kill.
Canton will take on Galeton for the District IV, Class A final next Thursday, November 3 at Athens High School with a 6 p.m. start.