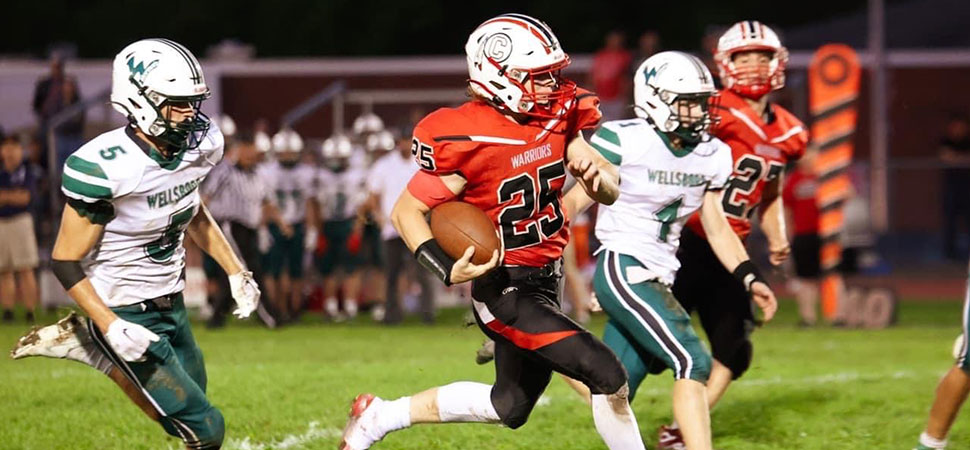 Parker leads Warriors to 35-0 blowout of Wellsboro
By: Chris Manning | September 12, 2022 / Photo: Chris Manning
Riley Parker ran for 175 yards and three touchdowns on nine carries to lead Canton past Wellsboro 35-0 during NTL football action.
Hayden Ward added 56 yards on four carries, while Austin Allen had 21 yards rushing on two carries, including a touchdown. Allen was 1-for-1 passing the ball for 40 yards, while Bailey Ferguson was 1-for-3 for three yards.
Weston Bellows had two catches for 43 yards.
Canton scored first as Allen ran in a touchdown from 21-yards out early in the first quarter. Ferguson added the point after for the 7-0 lead.
Later in the first Parker 66-yards down the right side of the field to pay dirt. Ferguson added the point after for a 14-0 lead.
Parker would have two more big runs in the second - one of 45 yards, the other 50 yards - en route to a 28-0 lead after Ferguson added the extra points.
The final touchdown came on a blocked punt that Brenen Taylor recovered in the end zone. Ferguson's kick was good, and it was 35-0 at the half.
The second half was scoreless.