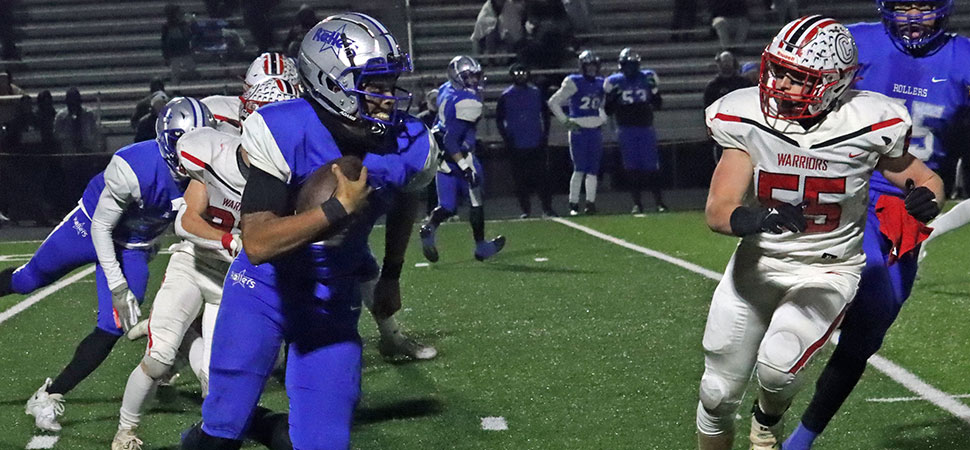 Penalties, Turnovers Doom Canton In Loss To Steel-High
By: Chris Manning | December 4, 2022 / Photo: Chris Manning
SHAMOKIN — Canton went toe-to-toe with the top ranked team in the state, but couldn't overcome some self-inflicted miscues as they lost to Steel-High 28-21 during the PIAA, Class A Eastern Finals.
The Warriors were afflicted with seven penalties for 45 yards and four turnovers in the defeat. Steel-High had trouble with penalties, too, with 11 flats for 85-yards, but only turned it over once.
The giveaways gave the SteamRollers a 65-41 edge in offensive snaps, which was too much for the Warrior defense to overcome.
Weston Bellows ran the ball 18 times for 122 yards, while throwing for 30-yards and a touchdown on 2-for-3 passing.
Riley Parker had five carries for 57 yards, with Holden Ward getting five touches for 36-yards and a score. Hayden Ward had three carries for 10 yards, and a 12-yard catch.
Offensive lineman Brenen Taylor had a 12-yard touchdown run off a fumble recovery.
Defensively, Austin Allen had an interception to go with one pass defense, and six unassisted tackles.
The Rollers scored on their ensuing possession as Alex Erby hit Jaeion Perry on a shovel pass for a 16-yard touchdown to make it 7-0.
Taylor tied it up early in the second quarter with his 12-yard run, carrying three Steel-High tacklers with him. Bailey Ferguson added the PAT to make it 7-7 at the half.
Both teams had two touchdowns in the third quarter, beginning with Bellows hitting Michael Davis for an 18-yard strike on third down. Ferguson's kick made it 14-7.
Ronald Burnette would strike back with a 25-yard touchdown run for Steel-High. Canton would block the extra point, though, to keep a 14-13 lead.
Just over a minute later Holden Ward punched one in from a yard out. Ferguson's kick was good, and it was 21-13.
Just before the quarter break, though, Steel High went on a five-and-a half minute drive, which ended with a 1-yard Burnette run. Erby ran in the 2-point conversion to knot things up.
The defenses overtook the offenses in the fourth quarter as Canton had a punt, followed by two lost fumbles, while the Warrior defense made two stands deep in their territory.
They couldn't make a third, though, as Burnette scampered in from 10-yards out with 34.7 seconds to play. The extra point was good, and it was 28-21 Steel-High.
The Rollers would get an interception on Canton's ensuing drive to end the game.