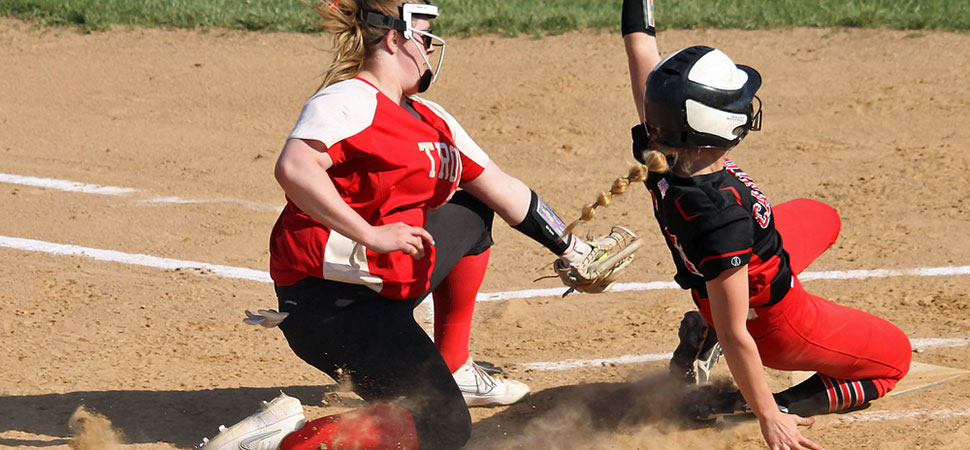 Saar walk-off lifts Lady Warriors over Troy
By: Chris Manning | April 27, 2022 / Photo: Chris Manning
Sara Saar drove in Keri Wesneski to give Canton a 10-9 wild, walk-off win during NTL softball action.
The Warriors survived four home runs from the Trojans, who kept taking leads only to see the Trojans come back and tie it.
They were knotted up at 3-3, and again at 8-8, and 9-9, before the heroics at the end.
Saar (2-for-3 had a double, triple, a run scored, and 4-RBI on the day, as Molly Ward (2-for-2) walked three times, scored twice, and drove in a run.
Emmi Ward (2-for-5) and Keri Wesneski (2-for-3) also had multi-hit games, with Wesneski scoring three times, and Ward twice.
Taryn Acla (1-for-4), Mae Kinner (1-for-3), Madison Hulbert (1-for-4), and Rylin Graham (1-for-4) also had hits. Kinner had 2-RBI, Hulbert had one, with Acla and Alexis Baldwin both scoring.
Wesneski got the win, striking out seven with eight hits, two walks, and nine runs.