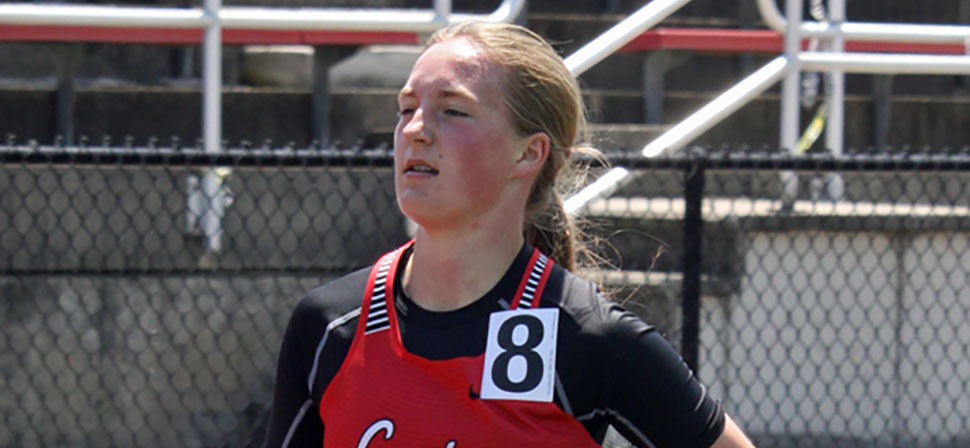 Warriors medal two at District IV Track Championships
By: Chris Manning | May 23, 2022 / Photo: Chris Manning
Canton had two medalists at the District IV, Class AA Track and Field Championships last week.
Kyle Kapichok took seventh in the discus in 134-feet 11-inches, while Camille McRoberts was eighth in the 1600 in 5:36.97. McRoberts also took ninth in the 800 in 2:29.68.
Caiden Williams was ninth in the shot put at 43-feet, while also taking 14th in the discus (111-feet, 7-inches), 21st in the long jump (18-feet, 1 1/2-inches), and 21st in the high jump (5-feet, 5-inches).
Kendall Kitchen (8-feet, 6-inches) was 14th in the pole vault, and 20th in the long jump in 13-feet 3 1/2-inches.
Isaiah Niemczyk took 16th in the 400 in 54.02, 16th in the long jump in 18-feet, 11 1/4-inches, and 17th in the triple jump at 37-feet, 5 1/2-inches.
William Colton was 20th in the shot put at 39-feet 4 1/4-inches.
The girls' 4x400 relay of Kali Wesneski, Laci Niemczyk, Kitchen, and McRoberts was 10th in 4:24.75, while their 4x800 relay of Laci Niemczyk, Wesneski, McRoberts, and Kitchen took 11th in 11:01.15.