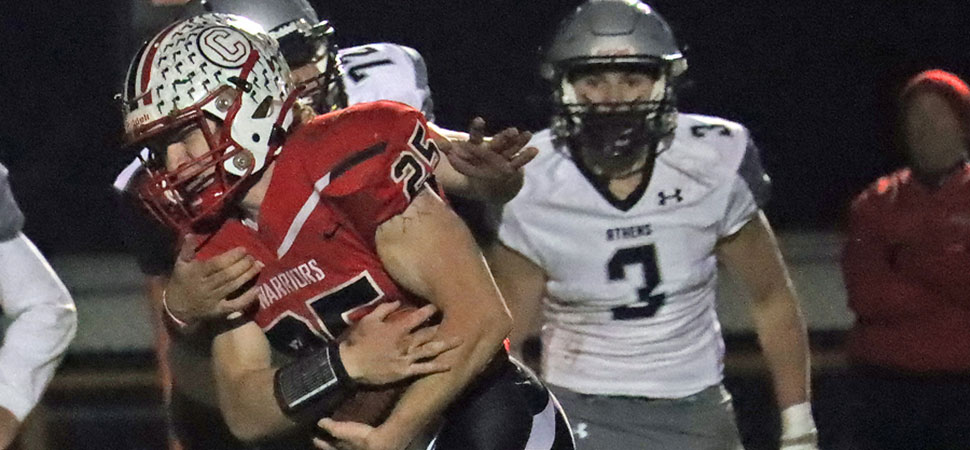 Warriors Shut Out Wildcats, 21-0
By: Chris Manning | October 17, 2022 / Photo: Chris Manning
Canton used a strong first quarter and dominant defense to beat a pesky Athens squad in NTL football action.
The Warriors had two backs go over 100 yards - Weston Bellows (10 carries, 112 yards, one touchdown) and Riley Parker (19 carries, 152 yards, one touchdown0 - as they ran for 318 yards on the day.
Their defense held Athens to just 80 total yards and six first downs, with one coming in the second half.
Three different Canton players threw the ball as they went 3-for-5 as a team. Michael Davis was 1-for-1 for 38 yards, while Austin Allen went 2-for-3 with no yards. Holden Ward was 0-for-1, but did have 33 yards rushing on eight carries.
Hudson Ward had a 38-yard catch for Canton.
Riley Parker led off the scoring with a 2-yard run just under three minutes into the game. Bailey Ferguson added the point after to make it 7-0.
Then, with 6:49 on the clock, Weston Bellows ran up the gut 59-yards to pay dirt. Ferguson's kick was good for a 14-0 lead.
Canton's final score of the first quarter - and the game - came with 1:27 left as Allen punched one in on 4th-and-goal from a yard out. Ferguson's kick was good for the 21-0 lead.