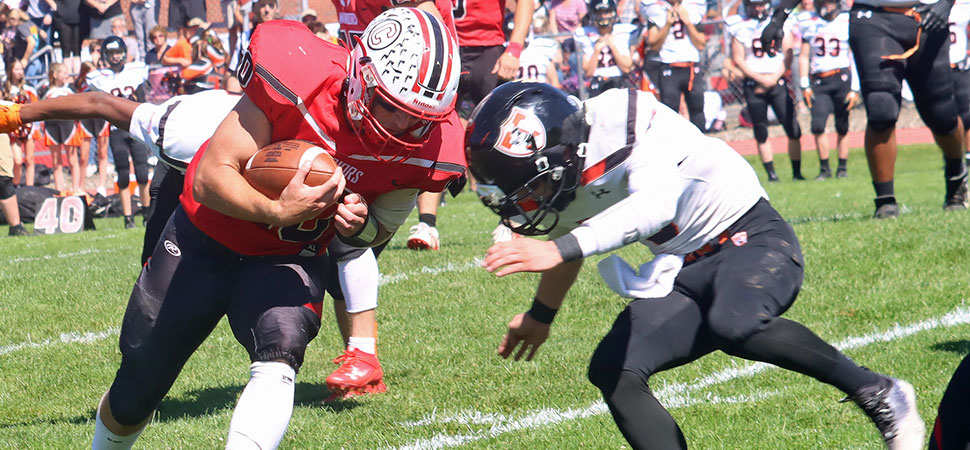 Big 2nd Quarter Leads Canton Past Towanda
By: Chris Manning | September 17, 2023 / Photo: Chris Manning
Canton scored 33 second quarter points to top Towanda, 40-0, during NTL football action.
The Warriors rushed for over 200 yards, led by Hudson Ward's 79 yards on five carries. Ben Fitch had seven touches for 70 yards with a score, while Michael Davis had 19 carries for 64 yards with three touchdowns.
Fitch was also 4-for-7 for 153 yards with a touchdown and two picks. Davis had two catches for 57 yards with a score, while Aydin Holcomb had a 67 yard reception.
After a scoreless first quarter Davis punched one in from three yards to put the Warriors up 6-0 six seconds into the second quarter.
Fitch then found Davis for a 57-yard touchdown pass with 9:47 on the clock. Alexis McRoberts added the point after for a 13-0 lead.
At the 7 minute mark Fitch ran one in from 44 yards out with McRoberts making it 20-0 with the extra point.
Davis then had runs of 13 and three yards to end the half, with Canton going 1-of-2 on extra points for the 33-0 lead.
The Warriors then put the game into mercy rule as Aydin Holcomb scored on a 6-yard run with 8:04 left to play. McRoberts' kick was good for the 40-0 final.