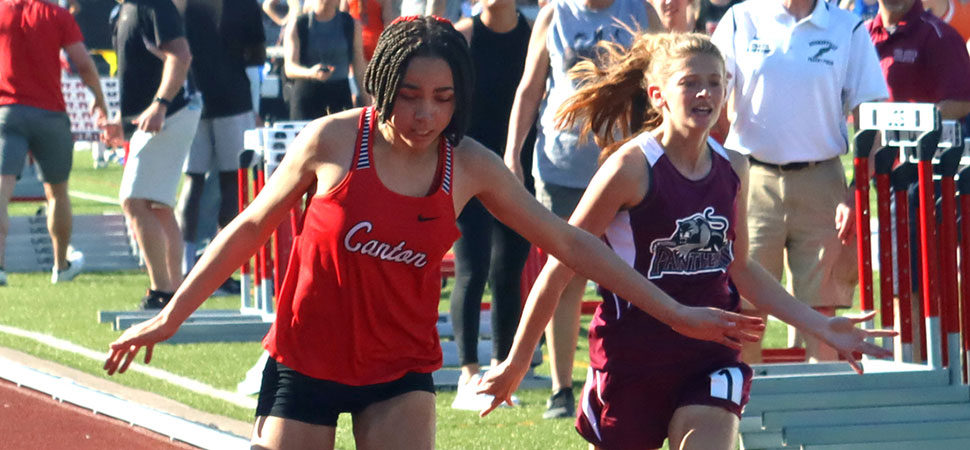 Kitchen, Kapichok Take Gold At Molly Dry
By: Chris Manning | April 14, 2023 / Photo: Chris Manning
Canton's Kendall Kitchen and Kyle Kapichok both won titles at the Molly Dry Invitational.
Kitchen won the pole vault in 8-feet, while Kapichok won the discus with a season best throw of 149-feet, 9-inches.
Also for the girls Daveian Crowley was second in the 400 (1:03.81), third in the 100 (13.07), and fifth in the 200 (27.85).
Camille McRoberts was second in the 800 (2:30.16) and fourth in the 1600 (5:44.18).
Camille, Crowley, and Kitchen teamed with Alexis McRoberts to take third in the 4x400 relay in 4:22.13. Kitchen was also eighth in the 200 in 28.21, while Alexis was sixth in the discus at 84-feet.
On the boys' side Kapichok was eighth in the javelin (130-feet, 8-inches) while William Colton was third in the shot put at 40-feet, 8 1/2-inches.
Lawrence Halbfoerster was eighth in the 3200 in 11:35.52, while their 4x800 relay of Hunter Brackman, Lawrence Halbfoerster, Brayden Vroman, and Simon Wile was eighth in 10:18.45.