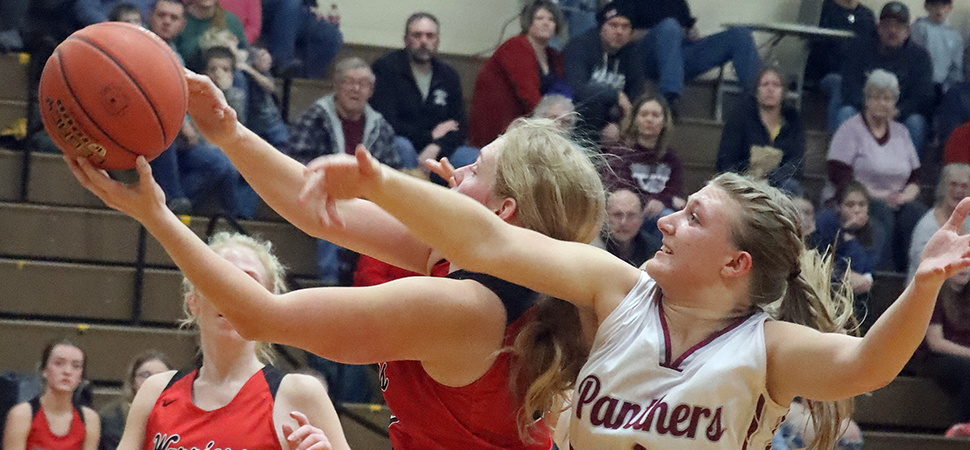 Lady Warriors Fall Short To NEB In District Hoops
By: Ed Weaver | February 22, 2023 / Photo: Chris Manning
For a half Canton hung in with second seed NEB, but ultimately fell 55-31 during District IV, Class AA girls' basketball quarterfinal action.
After falling down early the Warriors came back to cut it to a 3-point game after the first quarter. NEB then went on a 15-4 run in the second quarter to take a 31-17 lead into the half. An 18-9 third quarter in favor of the Panthers put the game away for them.
"We gave up a bucket right there at the end of the second quarter," said Canton coach Ryan VanNoy. "I knew coming in, we had to handle the first three minutes of the game just to make it a game. I thought we did OK with that, I was just there at a game at Northeast, and the team they played they were 15-2 after the first quarter, so I was kind of happy with how we came out. We battled, and competed, and it's tough because we've got a bunch of seniors, and that makes it even tougher."
Carolyn Thoren led Canton with 11 points and four boards, while Emmie Tymeson and Sarah Davy had seven points apiece.
Molly Ward finished with four points, five boards, and two steals as Jazmyn Hickok netted two points and four rebounds.
About the Author