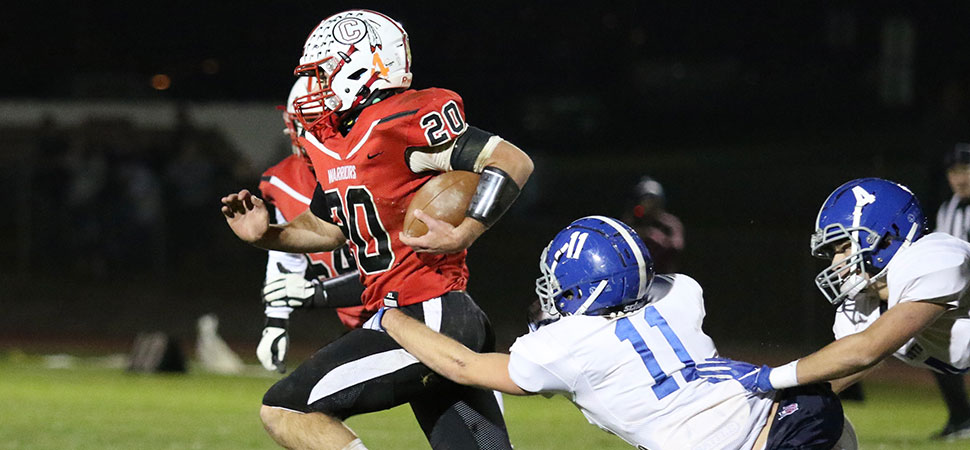 Warriors' 2nd Half Rally Comes Up Short Against South Williamsport In D4 Semis
By: Chris Manning | November 11, 2023 / Photo: Chris Manning
Canton couldn't dig out of an 18-0 halftime deficit as they fell to South Williamsport, 24-18, during District IV, Class A football semi-final action Friday.
The Warriors got it as close as 18-15, and had a chance late to go for the win, but just ran out of time.
Ben Fitch was 12-for-22 for 180 yards and a touchdown to lead Canton, while also rushing for 24 yards and a score on 19 carries.
Holden Ward had four catches for 90 yards and a touchdown, as Zack Colton had three receptions for 39 yards.
Michael Davis had three catches for 37 yards and five carries for 14 yards.
The Mounties got two long touchdown receptions from Dylan Scheller to go up 12-0, then saw Kaiser Kistner punch one in from 5-yards out late in the half for the 18-0 lead.
Early in the third quarter Fitch hit Ward for a 23-yard scoring strike, with Alexis McRoberts making it 18-7 with the point after.
On the first play of the fourth quarter Fitch punched one in from a yard out, with Ward running in the 2-point conversion to make it 18-15 with 11:55 left in the game.
South answered with a 20-yard touchdown reception out of Kistner halfway through the fourth to extend their lead to 24-15.
A McRoberts 28-yard field goal with 4:46 left made it a one possession game again. Canton would get the ball back, but fumbled it away on a hook and lateral on their final drive.