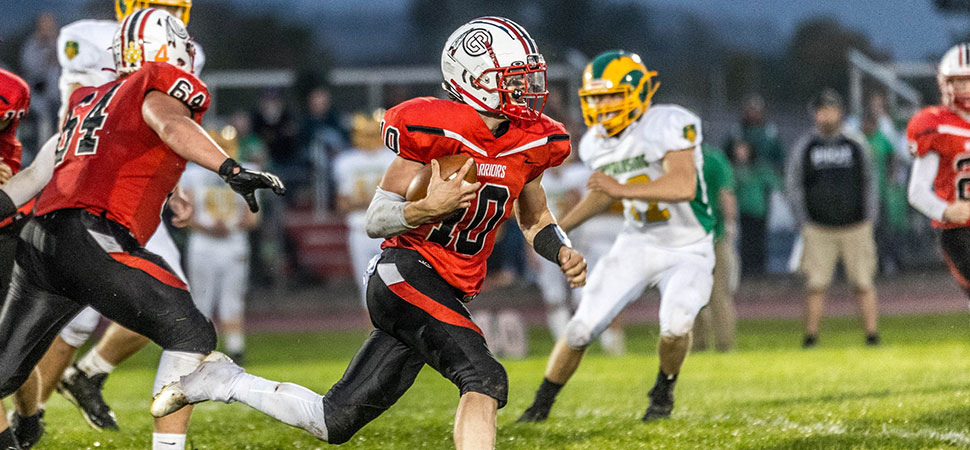 Warriors Roll to 47-14 Homecoming Win Over Wyalusing
By: Chris Manning | September 30, 2023 / Photo: Joe Carreon
Canton scored 47 straight points en route to a 47-14 win over Wyalusing to stay undefeated in NTL football action.
Hudson Ward had 92 yards rushing on 10 carries with three scores - plus a punt block touchdown - while Aydin Holcomb had five carries for 56 yards and one touchdown.
Ben Fitch had nine carries for 50 yards and a score, as Holden Ward finished with two carries for 43 yards with a touchdown.
Fitch was also 6-for-8 passing for 101 yards with Holden Ward hauling in three catches for 56 yards.
Hudson Ward scored on a 4-yard touchdown run with 7:56 on the clock in the first quarter. After Alexis McRoberts' extra point Canton led 7-0.
Ward then blocked a punt and recovered it in the end zone for a touchdown. McRoberts' kick was good for a 14-0 lead.
In the second Fitch ran one in from 40 yards out with 4:38 left in the half. McRoberts added the point after for a 21-0 lead.
Hudson Ward punched one in from 6-yards out with 1:34 to play to make it 27-0 at the half.
Canton then added three more touchdowns in the third, beginning with a Holden Ward 38-yard run with 10:23 on the clock.
Holcomb had a 5-yard run with 5:31 left, as McRoberts added the point after. Hudson Ward then scored from 2-yards out with 1:19 remaining as McRoberts made it 47-0 with the extra point.